Do you also love wine and do you like to go away for a weekend? Combine those two things for a perfect Wine Weekend Getaway! In this article I share 11 Dutch vineyards where you can stay overnight. The setting, atmosphere and focus are quite different per vineyard. For example, one accommodation is a bit simpler and cozier, the other a bit more styled and more luxurious. In short, something for everyone! Mentioned prices are per double room. Locations from south to north.
My favorites so far? Holset, Wolf and Saalhof! But that is of course very dependent on everyone's own personal taste.
Staying at a vineyard is not only idyllic, but also sustainable and safe. Because let's face it: it's nice if you can roll into bed after that bottle of wine, right?!
1: Domein Holset
Location: Lemiers, South Limburg
Price: from € 107.50 per night excl. breakfast (min. 2 nights)
Domein Holset is a winery specialized in sparkling wines, which are made in the traditional way. The 19th century, beautifully restored farmhouse is situated in a fantastic countryside location in the South Limburgse Heuvelland, near Vaals and the border triangle (DE/BE/NL). Perfect for a Wine Weekend Getaway! Enjoying the Dutch wine bubbles after a beautiful wine walk through the rolling landscape.
Domein Holset has five hotel rooms, a studio, a cottage and a holiday home, each with its own style. The shop is open to the public on Friday, Saturday and Sunday from 11 a.m. to 5 p.m. Guided tours and wine tastings on request. A tasting of sparkling wines is now possible daily from 11 a.m. to 6 p.m. There is a lot to do in the area. Maastricht is 30 km away.
Update: I wrote a Dutch article about my recent stay at Domein Holset: Logeren bij wijngaard Domein Holset: optimaal genieten van bruisend Zuid-Limburg. To translate the text to English you can easily use the purple Translate button in the lower right corner.
2: Villa De Proosdij
Location: Klimmen, South Limburg
Price: from € 159 per night incl. breakfast
Villa de Proosdij is a beautiful boutique hotel located on Landgoed Grootte Proosdij with a unique and special history. The sun terrace offers a view of the garden and the hilly landscape with vineyards and park. Villa de Proosdij has four different stylishly furnished rooms and two suites. All rooms have a private bathroom and most also have air conditioning.
The country house and the surrounding vineyards are located on the Klimmenderberg (132m above sea level). The grapes grown there are used to make three different white, organic wines. You can enjoy the Elise wine on the terrace or in the adjacent restaurant, sometimes with live piano music. In the area you can go hiking, cycling and golf. Or enjoy a day trip to Maastricht (15 km).
My impression is that the focus here is more on the hotel than the vineyard. In addition, this is the most luxurious accommodation of this article. Different setting and atmosphere than at a wine farm with one room for example.
If you are going to South Limburg and you love wine, then it is definitely recommended to visit other vineyards such as St. Martinus and Fromberg. And/or do a nice wine walk. Read more about it in the article South Limburg: discover the remarkable vineyards and wineries in 1-3 days. In the article South Limburg: enjoy the Burgundian lifestyle and nature in 4 amazing days you can read all about what else there is to do in this beautiful, most southern region of The Netherlands.
3: De Kleine Wijngaard (The Small Vineyard)
Location: Roggel, Limburg
Price: from € 79 per night including breakfast
In the rural quiet area of ​​the Leudal in Central Limburg is a beautifully renovated, white-painted farmhouse from 1895, in which B&B De Kleine Wijngaard is located. Owners Lyn and Arthur are passionate about gardening and Arthur started growing wine grapes in the late 1980s. Lyn is originally from the Philippines.
The name says it all: this vineyard is small, very small even, about 60 vines with white grapes. So don't expect extensive fields with vines or substantial wine production here. Arthur also makes red wine, but he harvests those grapes in the Moselle wine region (Germany). In addition to wine grapes, they also grow their own tomatoes and make their own jams, all on a small scale.
Extensive breakfast and dinner options such as BBQ and buffet. And of course a bottle of wine, which you can taste in the garden (or on colder days in the conservatory). B&B De Kleine Wijngaard has a familiar, small-scale and informal atmosphere. There is a double room with private bathroom (bath and shower) and a large double bed. There is also an apartment of 97m2 for max. 6 people with one bathroom.
In the area you can enjoy cycling and walking (including the Hertogenpad). River De Maas is 6 km away from the B&B and 14 km away is the lively bustle of Roermond, with many restaurants and Designer Outlet.
4: Wijngoed Wolf (Winery Wolf)
Location: Sint-Michielgestel, Noord-Brabant
Price: from € 100 per night incl. breakfast and bicycles
Bas and Laura started their biodynamic vineyard in the rural area south of Den Bosch in 2017. Before that they had already worked a vineyard in France and in other vineyards. This vineyard is named after the street where the vineyard is located, Wolfsdreef. Wijngoed Wolf (Winery Wolf) has for the time being only white wines and an orange wine, which is a great combination with spicy dishes! They are still working on red wine; a wine only receives the Wolf label if it is of good quality.
We do not use chemical pesticides. Hygienic working, testing, constant monitoring and staying close to nature are therefore essential for a good harvest.

Laura, owner of Wijngoed Wolf
Currently the vineyard is about 5.5 hectares, good for about 12,000 bottles per year. The owners would like to expand that even further to 20,000 bottles per year. In addition to the tasting room and vineyard, Wijngoed Wolf also has a 2-person guest room and a 6-person guest house. These can also be rented together if needed. From the accommodation you can enjoy a vineyard view. Seating inside and outside, and comfortable box-spring beds (180×200).
If you stay in the B&B, you can use the heated swimming pool and bicycles. If you are here in spring; around the corner is also an asparagus farm! And in the area you can enjoy walking and cycling, for example in the Groene Woud. With regards to sauna, Deverana is nearby. The wine shop is open Friday/Saturday 09:00-17:00, closed Sunday, Monday-Thursday by appointment. Wine bottle from € 9.50 per bottle (pin). Electric car charger is available.
5: Klein Amerika (Small America)
Location: Groesbeek, Gelderland
Price: from €70 per night excl. breakfast
Little America consists of a B&B, campsite and vineyard, next to which is a replica skeleton of an airplane from the 2nd World War. Enjoy the peace and the beautiful view! Tours of the vineyard, followed by a wine tasting, are per group. Nijmegen is 12 km away. The nearby German Reichswald is also worth a visit.
B&B Klein Amerika has a farmhouse room, a farmhouse suite, a so-called podge (cozy tiny cottage) and a wooden lodge for 4 people. They all have a private bathroom, sitting area, television and wifi. In addition, there is a shared garden, terrace and a lounge, which is used for both breakfast and wine tasting. There is also a microwave, refrigerator and coffee/tea making facilities.
Groesbeek is in Gelderland, close to the border with North Brabant, Limburg and Germany. With six winegrowers in one village, the Groesbeek Wine Festivals are now quite well-known, which take place every year at the end of September. You can take a nice walk along the vineyards in and around the village, such as Wijnhoeve Colonjes, Wijnhoeve De Heikant, Wijngaard De Plack and Wijngaard Van Ditshuizen. Or do the Groesbeek, Beek en Dal cycling route. Also visit Dutch Winegrowing Center Groesbeek.
Wijnhoeve Colonjes and my wish to visit wine village Groesbeek I already described in the article Dutch vineyards you should put on your bucket list.
6: Wijngaard De Zon (Vineyard The Sun)
Location: Gendt, Gelderland
Price: from € 80 per night incl. breakfast
In the eastern part of the Betuwe area, Wijngaard De Zon (Vineyard The Sun) is located. The B&B is located in the associated farmhouse. Upstairs two neat rooms, each with its own bathroom and air conditioning. Downstairs there is a communal kitchen and breakfast room.
The largest room also has a sauna. In the morning, breakfast is served with homemade juice. The entire B&B can also be rented as a 4-person holiday home for at least a long weekend, but without breakfast.
Owners Piet and Karin like to please their guests. On arrival there is already a bottle of wine from their own vineyard ready. The farm is surrounded by a large garden with a greenhouse and terrace. At cooler times you can sit high and dry in the conservatory.
The ponies and deer in the meadows around the farm complete the picture. Vineyard De Zon is open from mid-April to mid-October. For € 10 per day you can rent an e-bike to explore the area via dikes and ferries.
7: Wijnboerderij 't Heekenbroek
Location: Drempt, Gelderland
Price: from €60 per night incl. breakfast
A stone's throw from the old settlement town of Doesburg in the Achterhoek, is located surrounded by nature Wijnboerderij 't Heekenbroek (Wine Farm 't Heekenbroek). At this attractive B&B you can rent a cozy room with adjustable box-spring beds, private bathroom and – as icing on the cake – vineyard view.
The B&B is located on beautiful cycling routes and you can walk at Landgoed De Ulenpas for example. Veluwezoom National Park is about 12 km and Zutphen 13 km from the B&B.
Job and Neeltje decided to start a vineyard in 2005, which has grown since to 2 hectares. There are two terraces, where you can order coffee, tea, wine, some snacks and/or lunch, both as a B&B guest and a passer-by. Choose from about 10 different wines (white, rosé and red).
The terrace is open in July and August Wednesday to Sunday 12:00-17:00 and in April, May, June, September and October Friday to Sunday (same time). The store is open all year round. Dog upon agreement (€ 5 p/n).
8: De Lidrusgaarde
Location: Noordwijk, Zuid-Holland
Price: from € 80 per night excl. breakfast
For a view of the vineyard and dunes while enjoying a local wine, you have to be at Wijngaard De Lidrusgaarde. Yup, there are also vineyards in South Holland. This one is located between Katwijk and Noordwijk. Here you can combine a day at the beach with a visit to and a stay at a vineyard, nice! In spring, the tulip fields can be found within cycling distance of the B&B. Rental bicycles can be arranged.
The B&B of Wijngaard De Lidrusgaarde has two stylishly furnished, bright studios of 30m2 with private bathroom and kitchen. The studio on the ground floor has a terrace with vineyard view. There is also a studio on the 1st floor, which has a balcony with a view of both the vineyard and the dunes. Guests can walk freely through the garden and vineyard.
Owners Jan and Tineke started this vineyard in 2014, which produces about 800 bottles of wine per year (white and red). They see wine as an experience and want to introduce people to the process of winemaking. Pets not allowed.
9: Wijngaard Saalhof
Location: Wognum, Noord-Holland
Price: from € 80 per night incl. breakfast
Family business is located in a quiet rural village of Wognum in West Friesland (North Holland) Wijngaard Saalhof (Vineyard Saalhof) of Siem and Ada Loos. There used to be a fruit orchard here. Today you will find a B&B and organic vineyard (2 ha). In Restaurant Saalig, son Ben and daughter Celine prepare excellent dishes with a Mediterranean twist and delicious wines.
The wine tasting room is located in the adjacent barn from around 1920. You can enjoy a glass of wine on the terrace with a view over the vineyards. Vineyard tour € 5 p.p. There is also a greenhouse where a wedding ceremony can take place.
When my father started here he had the concept of agriturismo in mind, as in Italy. Vineyard, winery, wine tasting, accommodation and restaurant. That idea worked out well.

Celine Loos, Wijngaard Saalhof
That combination, especially being able tohave dinner at a Dutch vineyard, makes Saalhof unique in The Netherlands. The B&B rooms of 16m2 are located in the farm house, are suitable for 2 people and have a view of the vineyard. In addition, there are five Finnish wooden cabins of 55m2 with kitchen and private bathroom (4 pers.), which are located in the vineyard. Plus 8 spacious camper pitches (€ 17.50 p/n). Bike rental. Wijngaard Saalhof is located 7 km from Hoorn and 19 km from the picturesque Enkhuizen, both at the IJsselmeer (lake).
10: Wijndomein De Heidepleats
Location: Sint Nicolaasga, Friesland
Price: from € 75 per night incl. breakfast
At the Friesian B&B Wijndomein De Heidepleats not only wine is made, but also (green) cheese. Let's just put them together nicely! The vineyard is located on a so-called 'head-neck-hull farm' from 1884, which is still in operation. If you are looking for peace, space and nature, then you have come to the right place. Very Dutch and yet a bit of a 'abroad feeling' with that vineyard. There are Frisian Roodbont cows in the meadow, which you can watch from the terrace sipping your wine.
A tour of the vineyard and dairy farm followed by a wine and cheese tasting is possible for groups of 6 or more or as part of a package. For example, Wijndomein De Heidepleats offers a Farre and Wyn (Sailing and Wine) package. The Tjeukemeer (lake) is close by. In the area you can also play golf, walk and cycle.
The B&B has a neat, fairly simple room for 2 people. The room has a private bathroom and is located on the first floor of the farmhouse. On the second floor there is another room but it is currently not in use. You can see the vineyard from the window of the room on the 1st floor. The room is air conditioned. Downstairs is a shared kitchen with front door, where hostess Jântsje serves breakfast. Packed lunch possible.
Sint Nicolaasga is also a half-hour drive from Nijeberkoop, among others, where the walking route Between Egypt and France starts. For a description of this route and more tips for that area, please check the article Southeast Friesland: between Egypt and France and other beautiful places to walk.
11: De Kroon van Texel (The Crown of Texel)
Location: Den Burg, Texel, Noord-Holland
Price: from € 113.50 per night incl. breakfast (min. 2 nights)
Texel has its very own vineyard, can you believe it?! Marleen and Jan Jaap of De Kroon van Texel (The Crown of Texel) understand that wine should be an experience. Their wines – all with short names such as Trots (Pride), Nora and Secco – are very popular in European wine competitions. The vineyard with 8500 vines and B&B is located just outside Den Burg, near the beach of De Hoog (2.7 km) and on the edge of the forest. There are a number of restaurants and a supermarket within walking distance.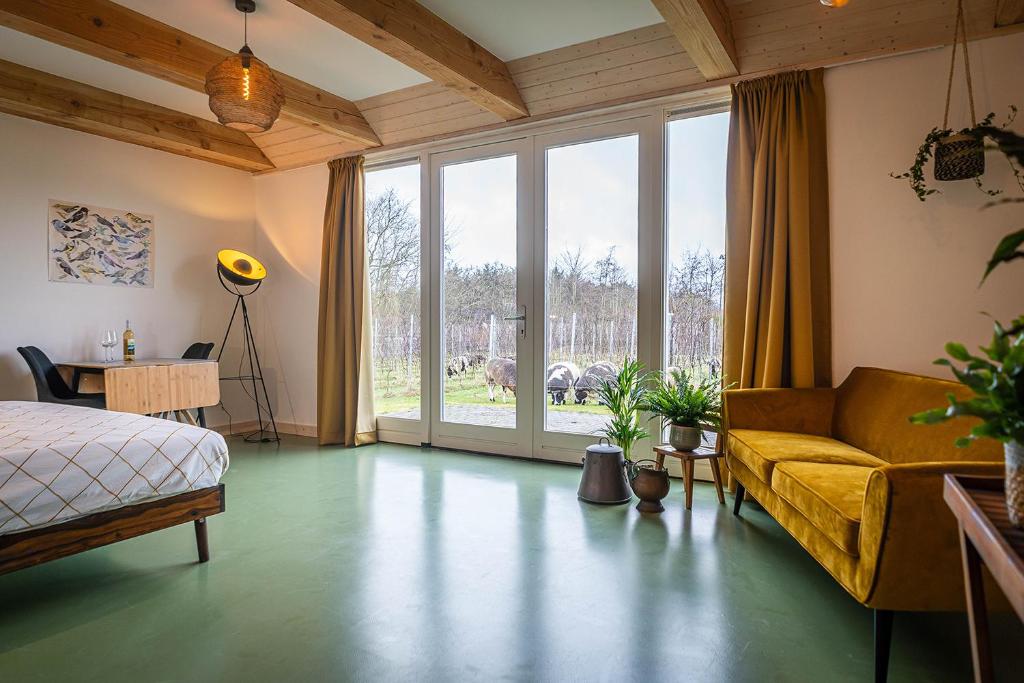 At De Kroon van Texel you can drink wine and eat breakfast with that pleasant vineyard view. The two rooms have a fresh and inviting interior, are spacious (30m2) with large double bed, private bathroom and private entrance. The perfect place to stay at a vineyard in The Netherlands.
Guided tour at the end of May to the end of September every Tuesday at 3.30 pm, Wednesday at 7.30 pm and Friday at 3.30 pm for € 12 p.p. Every Friday evening at 7.30 pm, at De Kroon van Texel a wine tasting with Texel specialties is held, including a chat with the winefarmer for € 18 p.p. The wine shop is open all year round on Tuesdays, Friday afternoons and Saturdays, as long as supplies lasts.
Map vineyards in The Netherlands
This map includes places and spots mentioned in this article (and more). This one is 'smartphone friendly'; you can easily use it via the Google Maps app. Click the icon at the top left to open the menu and see the categories. To adapt the map to your own preferences and interests, (de)select a category. Via Google Drive you can copy the map to your own My Google Maps account.
Vineyards with accommodation are colored yellow on this map.
More options
Not mentioned above in the article, but in Gelderland for example there is also Vineyard & Mini Camping Elanova and Vineyard Gravenael (Klein-Amsterdam). At Wijndomein Erve Wisselink in Eibergen (Achterhoek) there is a large holiday home and camping site next to the vineyard. And Wijnhoeve De Heikant in Groesbeek falls under Op de Horst, which also has holiday homes.
De Kleine Schorre in Dreischor (Zeeland) has a vineyard, tasting room and campsite. There are without a doubt more places where you can stay at a vineyard in the Netherlands. Or recover in the near future. Enough still to discover!
Staying with the farmer
Would you like to stay with a farmer (not necessarily a winegrower) for once? Together with your family in a glamping tent with a private bathroom in the middle of nature? Then take a look at BoerenBed.
Note: with Hotel De Vrouwe van Stavoren in Friesland you can sleep in a large wine barrel, but there is no vineyard there. So far I have only been able to find that combination abroad, such as Portugal.
Staying with a group at a vineyard
Staying at a vineyard isn't just for couples. OK, not all vineyards with accommodation lend themselves to a Wine Weekend Getaway with a group of friends or family, but most of them – at least up to a certain group size – are. The B&Bs in Sint Nicolaasga and Drempt each have only one room, so staying there with a group will not work. But there are plenty of other accommodation options for groups at vineyards.
For example with Wijngaard Saalhof they have several log cabins for 4 people (and a good restaurant). And at Wijngoed Wolf you can combine the 2-person and the 6-person accommodation as one large accommodation for 8 people. Similar story at De Kleine Wijngaard, different atmosphere.
With Domein Holset or Villa de Proosdij you could try to rent several rooms at the same time, so that there are enough sleeping places for all group members. If you would like to stay with a group at a particular vineyard, please discuss this with the accommodation.
Wine Weekend Getaway
For those who love wine and weekends away, the book 12X Wijn Weekendje Weg (12X Wine Weekend Getaway) recommendable. A nice gift for a wine lover or to practice your Dutch! In this book, author and vinologist Peetra van der Knaap shares a lot of interesting information about 55 Dutch vineyards and other nice addresses in The Netherlands. Some of the vineyards mentioned in this article are also mentioned in that book.
Have you ever visited a Dutch vineyard? I hope this article will inspire you to go and stay at a vineyard in the Netherlands. In any case, I wish you a successful Wine Weekend away! Feel free to leave a nice comment, question or additional tip(s) at the bottom of this article.
Want to read more articles about wine tasting around the world? Then please go to the Wine Blog Archives.
Read more articles about The Netherlands in the Netherlands Blog Archives.
---
This article contains affiliate links to support this website. It does not cost you anything extra if you buy something after clicking on one of those links. Partner websites that I am affiliated with, reward me with a small commission for making useful connections between buyers and their service or product. This helps to cover the costs for this website. Consider it as a compliment for my work. For more information click here.
Don't want to order anything via these links but would like to support me to continue to create new content? You can always buy me a glass of wine or take a look at my partner page. Thanks in advance & enjoy your next trip!
Last Updated on 07/13/2021 by Elisa Flitter Fever