In The Netherlands saunas, wellness, thermal, etc. are booming. If you are from somewhere else: how is it there? Finland for example is famous for its sauna culture, but "it's completely different there", according to a Finnish acquaintance of mine living in the Netherlands.
Those readers who really know me personally, know that I love going to the sauna. It's the one thing that makes me super relax. You need this from time to time. Especially when you live in the center of the Netherlands ('Randstad'), which can be very busy and crowded. Spend a day in the sauna and forget about the rat race for a while!
Where to go?
About 20 years ago, I started to visit some of the saunas in The Netherlands. But to be honest I only started to really enjoy it about eight or nine years ago. I guess it's a matter of the right company and confidence, yet most of all: where to go!? Where are the good places? Where do you feel comfortable? Recently I was talking about it to both expats and locals, and not many people have a lot of sauna experience, not sure where to go, or curious to learn about other options. That's why I decided to write this blog.
There are many saunas, wellness resorts and thermal in the Netherlands, but not all of them are great, to my humble opinion. Feel free to share your sauna tips via a comment at the bottom of this page! These are personal tips I would tell a friend or family member. Once you spend some more time in the Netherlands, or simply look for something different, somewhere to relax, escape from the buzzing streets and canals in Amsterdam for once, and go to the sauna! And yes, you'll have to go nude. In most places on most days at least.
Thermen Bussloo
Thermen Bussloo near Apeldoorn at National Park De Hoge Veluwe is absolutely one of my favorite saunas in The Netherlands. A luxury sauna and wellness resort where you can easily spend an entire weekend. Enough facilities not to get bored, and with a fabulous hotel connected. So it's kind of a big place, which is not always favorable, yet the staff here has a nice personal approach and serves great food.
I know couples who have been to Thermen Bussloo for their honeymoon! Walking around in your bathrobe for a whole weekend, isn't that a relaxing thought already?! So far I have been here at least 4 or 5 times already, but just writing about it makes me wonder: when can we go again?! LOL You can easily walk from the wellness area and the hotel rooms in your bathrobe via a tunnel. And the beds are so comfy, I always sleep like a baby here.
Every year, the finals of the Dutch National Aufguss Championships are held at Thermen Bussloo in June. Aufguss, also known as Löyly, or Opgieting in Dutch, is a wellness ritual performed in a sauna, an amazing sensational experience of warmth and fragrance. Many saunas offer these Aufguss sessions on a daily basis (they are included in the entrance fee). There are set times when these sessions are held in a certain sauna of the complex.
Aufguss
What happens during aufguss is that the so-called 'aufguss meister' pours water mixed with essential oil on top of the sauna stove, often along with a bucket of ice. He or she then directs the hot and scented steam around the sauna towards the guests by waving with a towel or flag, often with relaxing music on the background. Usually this ritual is repeated about three or four times in one session, after which everybody goes outside, where you can cool off and often you also receive a piece of fruit like slices of oranges.
Update: since COVID-19 Thermen Bussloo is no longer my favorite due to their stressful policy on flipflops, aufguss sessions, etc.
Fort Resort Beemster
Fort Resort Beemster is beautifully located in an old fort that's a UNESCO World Heritage Site. At the country side of the Beemster, less than 20 km north of Amsterdam. The mix of a historic building with thick brick walls, modern yet warm design and some Asian elements such as big Buddha statues and rusty Chinese lanterns, provide a great atmosphere. Nice food too.
As the name already reveals, Fort Resort Beemster is also a resort hotel, with another excellent restaurant for clothed visitors. A great wedding location too! There are daily aufguss sessions with the resort's real-life Tarzan and excellent singing bowl sessions that will make you super relaxed.
I stopped counting how many times I have been to Fort Resort Beemster, it is always a great pleasure! I love for example the local products served in the restaurant and the massage room for two, but also the interior and garden with a big Buddha and pool. Should you want a massage or treatment like hamam or rassoul, I would recommend to book those at least one week in advance to avoid disappointment. There is an evening entrance rate with discount.
Sauna-Thermen Ridderrode
Santpoort-Zuid (South) is a cute little town close to the fantastic city of Haarlem and the coast line of the Netherlands. Ridderrode is not big in size, but great in experience and big enough to spend a full day of relaxation. The most delicious carpaccio salad and the best massage I ever had was here. It just has something special, hard to describe. And the coolest thing is: they even have an igloo!
What I love here the most is the mystique herbal bath, the lemon sauna and the green garden, especially when the weather is good. It has a certain private and comfortable atmosphere that I haven't found anywhere else. Due to its size, I can recommend to always book in advance. Santport has a train station. When coming by car, make sure you have a 1 euro coin at hand to be able to park next door. If you want to spend the night nearby, consider their arrangement with the beautiful Landgoed Duin & Kruidberg.
Thermen Berendonck
Thermen Berendonck is the latest state-of-the-art thermen in The Netherlands, located in Wijchen, near Nijmegen (southeast). Unique and authentic. Good and wonderful. Very enchanting. Some key words that describe Thermen Berendonck, the youngest sister location of Thermen Soesterberg and Thermen Bussloo, which was opened May 1, 2019.
The theme of Thermen Berendonck is 1001 Arabian Nights. 13 sauna's such as House of Maharadja sauna, Chaay Ghar sauna, Taj Mahal steam cabin, Isfahan steam cabin; plus 6 baths, hamam, restaurant, relaxing area, etc. Unfortunately Thermen Berendonck does not have its own hotel rooms, but you can stay nearby, I would suggest to spend the night at either Van der Valk Lent or Van der Valk Cuijk Nijmegen, which are both ±15 min from the thermen.
SpaSereen
SpaSereen brings you right into nature with its wonderful location at the Maarsseveense plassen (lake) close to Utrecht. Swimming pool, footbath, herbal baths, whirlpools, salt water baths, caldarium, lounge cabin with lake view, biosauna with color therapy, Himalaya chrystal salt stone cabin (with a beautiful authentic door), Turkish steam bath, sauna with fire place, wave cabin, infra-red cabin, waterfall cabin, lavender cabin, Marrakech cabin, garden, a great restaurant, beauty treatments… SpaSereen has everything a great wellness should have.
I have been here several times, can only not recommend to go during Christmas holidays as it's simply too crowded, but that counts for many saunas in the Netherlands I must say. Taking a day off and go during the week, which provides the most relaxing experience.
Sauna van Egmond
Sauna van Egmond is a classic, small city sauna, located in the middle of Haarlem, less than half na hour west of Amsterdam. It's easy to reach by both private car and public transport. I really like spending evenings here, with a friend or alone, straight after a busy day at work. Their evening rate is rather attractive. Sauna van Egmond has a very cozy atmosphere, with lots of dark brown wood and candles.
The Meknes sauna of Sauna van Egmond is quite special, like 1001 nights. The swimming pool is 34 degrees Celsius and watched over by a Greek goddess. Try the satay at the restaurant, sip a smoothie by the fire place, watch a movie upstairs, follow the movements of the Caldarium Maximus, poor a bucket of ice cold water over your head at the terrace… You'll feel like reborn and ready for your next day behind the desk!
Thermen Soesterberg
Soesterberg hosts a wonderful wellness thermal located in a beautiful area. Located in the middle of the country, at National Park Utrechtse Heuvelrug in the province of Utrecht. A beloved place to live, well-known for its sand dunes, heather fields and forest. Thermen Soesterberg moved to another location in 2016 and was more recently taken over by the same family that runs Thermen Bussloo aswell (mentioned earlier in this article).
Thermen Soesterberg offers nowadays 14 saunas; the Sauna Theater and the Pond Sauna are my favorites. In addition there are 4 pools, a swim pond, whirlpools, daily aufguss sessions, two restaurants, etc. Many beauty treatments and arrangement packages are possible. Thermen Soesterberg is getting quite popular and it can get a bit busy especially during the weekends and holidays, which a bit of a downside but I always enjoy my visits anyway.
Want to stay longer in the Soesterberg area and make a relaxed, long weekend out of it? Consider staying at Hilton Royal Parc Soestduinen. There is enough to see and explore, the nature is really beautiful!
Saunapark Epe
Saunapark Epe in Gronau-Epe, just over the border in Germany, not far from Enschede, was recently renovated. It's a mid-size complex with seven different saunas, including a rose sauna. Enjoy the five different daily Aufguss sessions, indoor and outdoor swimming pools, special drinks such as kefir and glühwein, flammkuchen (snack), etc. Once or twice a month there is Ladies Only Day.
Sauna Thermen Zuidwolde
Sauna Thermen Zuidwolde is a unique, mid-size thermal with a beautiful country garden surrounded by a number of very nice saunas. The most special sauna Thermen Zuidwolde has is a cave sauna. There is also a classic sauna, a wood burning sauna, a diehard sauna (90-95 degrees Celsius), the Iki sauna, the Laconium sauna and a Turkish steam bath. Enough to spend a full day of relaxation. The pedicure is very good too here by the way.
Zuidwolde is a small town in the south of Drenthe, just 30 minutes northeast of Zwolle. If you are not from around here, consider to spend a weekend or week in the beautiful, peaceful province in the northeast of the Netherlands that is Drenthe. Full of forests, heather, walking and biking paths, charming small villages, etc. We love to stay in authentic B&Bs in old farms in Drenthe. Read more about Drenthe in the article Drenthe: what to do and see in the beautiful and peaceful National Park Drentsche Aa.
Twente sauna
Other wellness options nearby are Saré in Oldenzaal (with trendy 'hotyoga') and Huize Hölterhof in Enschede. I can highly recommend to combine your visit to a sauna in the Twente region with a long weekend in or near Enschede. Enschede is one of my top favorite cities in The Netherlands. Not only is this a wonderful student city, but it's also surrounded by beautiful nature, ideally for a relaxing walk or bike ride.
Enjoy a pub or dinner at the Oude Markt. Book some nights at Estate Bloemenbeek or Estate Wilmersberg (which also has a small spa and vineyard) for the ultimate relax weekend. A car will give you the most freedom to move around, but Enschede is also well reachable by train (you can take your bike in the train). You can score a profitable weekend return train ticket via Spoordeelwinkel. Read more about Twente in the article My top 5 recommendations for a relaxed long weekend up to 1-2 weeks in The Netherlands.
Elysium
Elysium in Bleiswijk, just 10km north of Rotterdam. Quite well-known to the public as a result of continuous promotions and advertisements. I had to visit twice to really appreciate it. It's quite big, you can easily spend a full day here and not have seen all of it. 24 different saunas, including Witch sauna, Russian Banja, Listen sauna (books), Lavender sauna, Bamboo sauna, etc.
The almost endless variety of saunas is what makes Elysium interesting. The huge garden with countless sunbeds is also quite pleasant, at least when the weather cooperates. The hospitality performance varies; at least I can always recommend the 'bitterballen' (typical Dutch deep fried snack with meat inside and mustard dip). Count on queues at the checkout, especially on the last few days of promotions.
Leeuwerikhoeve
A new favorite of mine is Thermen & Beauty Leeuwerikhoeve in Burgum, southeast Friesland. Last summer we went there and had a great time. A wonderful side step during the Elfstedentocht (Eleven City Tour) we did throughout the province.
Saunas also worth a visit
Thermae 2000 in Valkenburg: especially their new wine therapy sessions, but also the view over the hilly landscape in South Limburg
Veluwse Bron in Emst: big with lots of facilities, located at lake
Thermen Holiday in Schiedam: mid-size, great hot stone massages, close to the highway
BLUE Wellnessresort in Leiden: 11th floor, quite new and modern, reserve for restaurant in advance, right next to Leiden Centraal train station
Spa Zuiver in Amsterdam: sleek design, not my favorite though, especially due to 'look at me' audience
Dunes Zandvoort: small sauna inside NH Hotel Zandvoort, right next to beach and car race track, went here twice, once for a bachelorette party
Sauna de Heuvelrug in Veenendaal: intimate atmosphere, good beauty salon, Full Moon Ceremony
SpaWell in Peize: mid-size, southern Groningen province
Sauna Putten was declared bankrupt in early July 2020. They recently reopened. There has been a lot of hassle with the municipality about whether or not to check the QR code on arrival. They now scan it as soon as customers arrive.
Map saunas The Netherlands
This map includes places and spots mentioned in this article (and more). This one is 'smartphone friendly'; you can easily use it via the Google Maps app. Click the icon at the top left to open the menu and see the categories. To adapt the map to your own preferences and interests, (de)select a category. Via Google Drive you can copy the map to your own My Google Maps account.
Cannot recommend
Of course everybody has their own personal taste and experience. Personally I am not a fan of the following.
Zwaluwhoeve in Hierden: massive, crowded, impersonal, plastic all over during treatments
Sanadrome Spa & Hotel in Nijmegen: mandatory swimwear, no sauna, only mint/steam room, mainly a pool
Suomi in Hoorn: small and old fashioned, 80s style swimming pool, nice wood burning sauna outside (permanently closed – update Dec 2022)
Sauna Grosthuizen in Grosthuizen: outdated, needs renovation (permanently closed – update Dec 2022)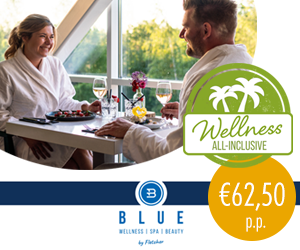 Sauna Bucketlist
Seen many, yet still many to be seen! Following good stories from friends and family members, I would like to visit the following saunas this year.
And several ones abroad… Which ones would you like to try?! Share in a comment below.
Prices
Prices of saunas in the Netherlands vary widely, usually it will be somewhere between €12.50 and €35.50 per day. Check out the website of the sauna for the latest prices or give them a call. Many saunas have different rates ('tarieven' in Dutch), for example evening rate (usually after 17:30h), 10-visits membership, arrangements with treatment and discount on entrance fee, etc. Sometimes there are different rates for weekend and week days, arrangements for 2, 2.5, 3 or 3.5 hour visit, etc. Massages are often offered in 25 or 50 minutes, in different styles, count on ±€1.30 per minute.
THE place to check for discounts and package promotions is Spa Online, where they regularly have some seriously interesting deals. Not every sauna in The Netherlands participates in these kind of deals, but several frequently do (especially places like Elysium, Leiden, Schiedam, etc.).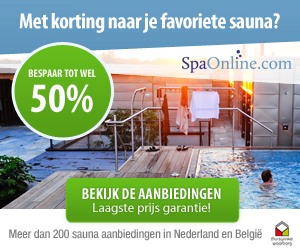 So it is worth checking if you can save some money on the entrance fee or package. Just make sure you pick the right one, check the conditions and keep in mind that your consumptions and treatments will come on top of that. Not a cheap hobby, but very rewarding.
Enjoy
I hope you will enjoy your relaxing day at one of the saunas in The Netherlands mentioned in this article.
Note: since it is not allowed to bring in cameras or smart phones into a sauna, credits for the photos in this article go to the saunas mentioned above.
Do you like going to the sauna? Which is your favorite? Please feel free to leave a comment or question below. I hope this article was helpful for you. Wish you a relaxing time.
Read more articles about The Netherlands in the Netherlands Blog Archives.
---
This article contains affiliate links to support this website. It does not cost you anything extra if you buy something after clicking on one of those links. Partner websites that I am affiliated with, reward me with a small commission for making useful connections between buyers and their service or product. This helps to cover the costs for this website. Consider it as a compliment for my work. For more information click here.
Don't want to order anything via these links but would like to support me to continue to create new content? You can always buy me a glass of wine or take a look at my partner page. Thanks in advance & enjoy your next trip!
Last Updated on 12/12/2022 by Elisa Flitter Fever