This is an overview of the affiliate partnerships of FlitterFever.com on alphabetical order. Click on the banner or name in bold to go to the parner's site.
Agoda
Agoda is a well-known hotel booking website, especially good for Asia. Sister company of booking.com.
Amazon.nl
Amazon.nl opened up in March 2020 for The Netherlands. Travel books, music, video, software, hardware, electronics, fashion, etc. All at competitive prices! Go and have a look.
Amazon Prime offers free and fast delivery of millions of products, unlimited streaming of exclusive series, movies and more for only € 2.99 per month.
Alamo.nl
Cheap car rental!
Allianz Global Assistance NL
With over 50 years of experience, Allianz Global Assistance is the specialist and global market leader in travel insurance and assistance. Allianz stands for quality, professionalism, service and reliability.
Avis
Avis is an American car rental company founded in 1946 with nowadays about 5,500 locations world-wide.
Bahn.de – German railway company
As Germany's leading mobility service provider, Bahn brings millions of people from A to B in Germany. Book tickets online in advance, to be sure of a seat. Discounts for under 22-years-old, when buying combination tickets for multiple legs of your trip at once, etc.
Bever
Bever Outdoor has a huge collection of clothes, shoes and other stuff you may need outdoors, whether it is near your home or far way in another country. Shipping to The Netherlands only!
FREE DELIVERY from EUR 25, –
FREE RETURN in all Bever stores
365 DAYS reflection time*
Pay post-delivery with Klarna for free
Bol.com
Bol.com is like Amazon but then most popular in The Netherlands. Everybody uses it. What started with books has now become the biggest webshop of the country, with almost anything you can imagine, from garden tools to make-up, diapers, toys, music, electronics, etc. Have a look and you will be amazed. It is even possible to get things delivered today! In The Netherlands that is.
Booking.com
When not booking via a travel agency, I almost always book my accommodation via booking.com. I love the search/filter options and the variety and quality of offerings, there are more than 28 million options in 228 countries! Booking.com started in Amsterdam in 1996. Their mission is 'to make it easier for everyone to experience the world' and I believe they do! Very easy to use, all information needed, many offerings that only require payment upon check-out and competitive in prices. Ideal!
Corendon
Corendon offers all-inclusive holidays, cheap last-minutes, early booking discounts and other sunny holiday packages to Bonaire, Bulgaria, Curacao, Dominican Republic, Egypt, Gambia, Greece, Indonesia, Italy, Cape Verde, North Macedonia, Portugal, Spain, Turkey, Tanzania (Zanzibar) and United Arab Emirates (Dubai) from The Netherlands. Member of ANVR, SGR and Dutch Calamity Fund.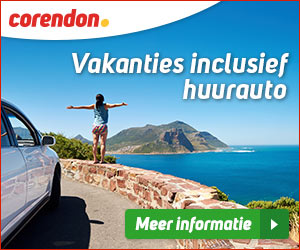 Cruisereizen.nl
Cruisereizen.nl offers a wide assortment of cruises and is market leader in The Netherlands, located in Rotterdam. Cruisereizen.nl takes pride in being very costumer-oriented and will always offer the lowest price available! Member of ANVR, SGR and Dutch Calamity Fund.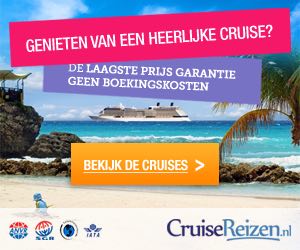 Doenkado (NL)
With Doenkado you always do a Dutch friend of family member a favor. Because who doesn't want to do fun things and make great new memories? With more than 500 activities throughout The Netherlands there is something for everyone. For young and old & with the whole family or alone on the road. From adventurous activities to relaxing experiences. Nice to receive, even nicer to give.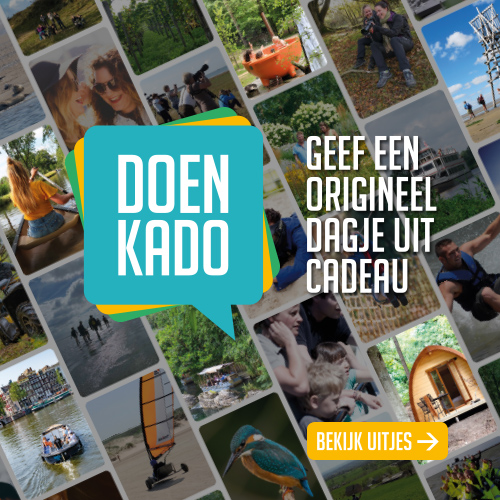 Djoser NL
35 years ago Djoser introduced the other way of traveling to Egypt. The land of the Pharaohs has remained the specialty of the house, yet nowadays the programs offered cover all continents. Djoser organizes more than two hundred different group trips to app. 100 countries, also suitable for families with children. Also for particular interests like walking or bicycling group trips.
Djoser DE
Same wonderful organization, but then for German speaking travelers and guidance. Click on the banner below to open the German website of DjoserDE.
Eliza was here
Eliza was here is specialized in cozy, stylish and small-scale accommodation in Southern Europe: Spain, Portugal, Italy, Malta, Greece and Cyprus. "Where everyone turns right, I turn left. In this way I discover the most special destinations and holiday addresses.". Discover the hidden gems! Besides The Netherlands, Eliza was here is also active from Denmark and Germany. Member of ANVR, SGR and Dutch Calamity Fund.
EUclaim
Was your flight cancelled?
Did you get refused to board a flight?
Did you miss your connecting flight?
Was your flight delayed?
You may be eligible for financial compensation. No time or not in the mood to deal with the hassle? Outsource it! EUclaim.nl has over 12 years of experience in getting compensation for airline customers.
Expedia
Expedia is a booking website that offers a wide variety of accommodation like hotels and holiday homes, flights, car hire, ground transfer, etc. There are hotels on this website that you cannot find on some other major booking websites. I have used Expedia also to book flights.
Holiday packages (flights + hotel) booked on Expedia.co.uk are ATOL protected.
Holiday packages (flights + hotel) booked on Expedia.nl are covered by ANVR Dutch travel association, Calamiteitenfonds (Dutch Calamity Fund) and the Expedia Guarantee Plan (not SGR). Belgians can check out Expedia.be.
Fletcher Hotels
Part of the Fletcher Hotels are quite nice for a couple of nights and they have great deals for The Netherlands. Check it out!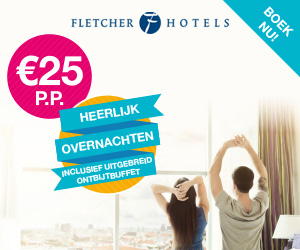 Flixbus NL
Travel comfortably and cheaply with FlixBus. Book your ticket easily and quickly online without booking fees. Affordable bus rides with power plugs and free WIFI though 28 countries in Europe. Great for backpackers and other budget travellers!
Get Your Guide
Among frequent travelers and travel agents GetYourGuide is a well-known and popular website to book tours and excursions, activities like cooking classes and tickets to numerous tourist attractions. GetYourGuide includes more than 40,000 options for destinations around the world.
Heerlijkehuisjes.nl
Heerlijkehuisjes.nl is a Dutch website offering holiday home, large and small, on a holiday park or with a private owner, in The Netherlands, Belgium and Germany. Heerlijkehuisjes.nl is a member of SGR.
Hema
Founded in 1926 in Amsterdam, the good old HEMA is an all-time favorite of mine. I buy there a lot of things; from travel stuff to socks to wine to notebooks to whatever you need. All items are developed by HEMA itself and are always of good quality, competitively priced and have a unique design. Shop online and get it delivered at home or pick your pre-ordered items up at the branch of your choice in The Netherlands, Belgium, Germany, England, France, Austria, Spain or the UAE.
Interhome
Interhome has almost 50.000 holiday homes available in 31 countries throughout Europe. Local service includes handling of booking process, key transfer and final cleaning. Active since 1965, Interhome still maintains it's high Swiss star classification standards. 5 million overnight stays 2018. Dogs often allowed. Member of ANVR, SGR and Dutch Calamity Fund.
iVisa
Speed, simplicity, minimum chance of rejection, security and awesome 24/7 customer support characterize iVisa. iVisa offers two types of visa: electronic visas (e-Visas) and traditional paper visas, based on the customer's destination. On top of that iVisa also offers: ETA (electronic travel authorization), Tourist Cards, Visa on Arrival pre-registration/approval form, Tourist Invitation Letters and Embassy Registration service. Offices in most continents.
Klook
At Klook, tours, activities and attractions at many top destinations are yours to explore. Also wifi, SIM card, train tickets and passes, etc. Asia, Middle East, Pacific, Europe, North America, a few African countries… Klook will continue to grow.
Koning Aap
Koning Aap Reizen has been an organization for years where enthusiastic, well-traveled country experts enjoy organizing trips for the gourmets among travelers. Over the years, Koning Aap Reizen has managed to put together an extremely expert team of country specialists.
Koning Aap Reizen offers group and individual trips, each composed by country specialists: experienced travelers with a passion for 'their' country. Member of ANVR, SGR and Dutch Calamity Fund.
L
Natuurhuisje.nl
Imagine waking up in your cottage and opening the window. Exposing yourself to the sound of singing birds. Waking up with a cup of coffee on the terrace, with a beautiful view of the sunrise… Unique cabins in the woods, treehouses, idyllic cottages by the water, glamping, off-grid hiker cabins, sustainable tiny houses are just a few examples of all the types of accommodation Natuurhuisje.nl and Nature.house are offering. Plus chalets, bungalows, B&Bs, huts, agriturismo, etc. Check out all that Natuurhuisje.nl has to offer in Europe!
Q-Park
Q-Park is one of the largest parking service providers in Europe. Q-Park is the market leader in the Netherlands with over 375 parking facilities in almost all major cities. Q-Park offers a unique parking product, called Park + Fly, for Schiphol and Eindhoven airports. You can park for a maximum of 22 days in a Q-Park parking garage from € 4,43 per day. This rate includes free transportation from and to the airport. With this unique offer, Q-Park is the cheapest parking provider around Schiphol and Eindhoven airports.
Radisson Hotels NL
Radisson Blu has 265 high quality hotels in 65 countries in Europe, the Middle East and Africa. I love staying at their hotels and bet you will too!
Sawadee
More than 250 journeys around the world with lots of individual freedom. Sawadee has seen many beautiful places and wildlife. Customer rating: 8.6 / 10. Sawadee offers group trips, unique single trips, sustainable travel and family travel (from 4 years old). Member of ANVR, SGR and Dutch Calamity Fund.
Skyscanner
Skyscanner is a well-known website that can help you compare possibilities for flights, rental cars and hotels. To learn more about (the brokers offering flights on) Skyscanner, please read this article.
Skyscanner in Dutch / Skyscanner in het Nederlands
SnappCar
SnappCar is one of the largest car sharing communities in Europe. Consumers share more than 200.000 cars, vans, campers till even limousines and wedding cars, all well insured. At SnappCar consumers can rent cars and rent out their own cars.
Consumers can rent a car really close by home (often within walking distance). Often cheaper than traditional rental companies. Car owners earn a lot of their existing car expenses back with renting out.

Stip Reizen
Stip Reizen is a quite affordable touroperator of The Netherlands. Cruise trips, Formule-1, sun vacation, roundtrip, fly-drive, etc. to app. 22 countries. Good value for money, versatile, surprisingand easy. Member of ANVR, SGR and Dutch Calamity Fund.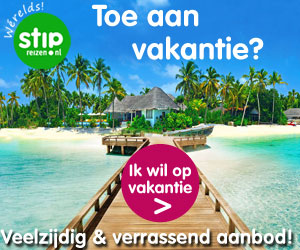 Sunny Cars
For rental cars, I am a big fan of Sunny Cars. Most Dutch professional travel agents use them and they are SMART! Sunny Cars is an all-inclusive, worry free rental concept with affordable, fair prices, great service and no unpleasant surprises upon pick up or drop off. Ideal, I use them all the time! Sunny Cars is a member of the ANVR and bookings are covered by SGR.
TakeMeTour
TakeMeTour is a niche site where you can easily book guided tours, activities, 4G SIM card, airport – hotel transfers, tuk tuk rides, spa treatments and massages, etc. in Southeast Asian countries like Thailand, Cambodia, Philippines and Vietnam, plus some Australian cities.
Thuisbezorgd
Thuisbezorgd is THE food home delivery service in The Netherlands. When you are just not in the mood to go out for dinner or cook, simply order food to your home or accommodation via Thuisbezorgd!
Transavia NL
Transavia is the budget sister of Dutch airline KLM. Operating since more than 50 years, Transavia a offers nowadays flights to more than a 100 destinations.
Travelcircus NL
Travelcircus is an online booking platform for premium travel experiences. By combining premium hotels with hotel services and popular attractions, Travelcircus creates unique packages at attractive prices. Due to their high quality standard, Travelcircus only works with certified hotels that have a recommendation percentage of at least 80% or higher. Their portfolio includes for example:
Musicals & shows (Magic Mike Berlin, STARLIGHT EXPRESS, Blue Man Group, etc.)
Wellness (Therme Erding, Tropical Islands, AQUA DOME, etc.)
Theme parks (Phantasialand, Movie Park Germany, Playmobil Funpark, etc.)
City trips (Berlin, Prague, London, etc.)
Caution: Travelcircus is a German company and therefore not affiliated with Dutch organizations such as ANVR, SGR and/or Dutch Calamity Fund.
Travelhome.nl (motorhomes)
Travelhome.nl is the specialist for camper rental in the US, Canada, Australia, New Zealand, South Africa, South America and Europe. Originally started in the early 80s as a supplier of American campers in The Netherlands. In 1986 they started renting out camper vans in the US and Canada.
Now, 28 years later, Travelhome can proudly call itself the motorhome specialist in The Netherlands and is the market leader in motorhome trips to America and Canada. In addition, there is a wide range on various other destinations. Travelhome is a travel subsidiary of the ANWB, affiliated with SGR and ANVR.
TUI
TUI is a big travel organization with fully organized package trips to more than a 100 destinations by plane, bus, car or train. TUI even has their own airline and more than 130 TUI stores. Not happy = money back. Member of ANVR, SGR and Dutch Calamity Fund. Discover your smile! TUI often has great last-minute deals!
Viator
Just like GetYourGuide, Viator is a website where travelers can book tours, day trips, activities, workshops etc. at destinations all over the world. Different tours/activities but same principle.
Voyagin
Book easily and quickly all kinds of activities, transfers, etc. specifically for Asia via Voyagin. Discounts, flexible cancellation policy and instant confirmation, so suitable for last-minute bookings as well.
Update: Voyagin has become Rakuten Travel Experiences and is now only specialized in Japan.
World Nomads travel insurance
World Nomads travel insurance has been designed by travelers for travelers, to cover your trip essentials. Even if you run out of travel insurance or leave without it, World Nomads can cover you. Simple & flexible travel insurance including 24/7 Emergency Assistance and Travel Cover for 200+ Adventure Activities. Buy & claim from anywhere in the world.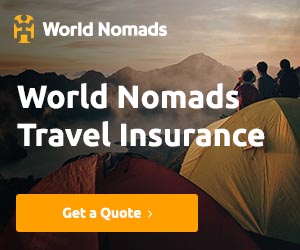 World Wide Campers
Thanks to WorldWideCampers.com free and non-binding quotes for motorhome rentals in Australia, America, Canada, New Zealand, South America, Southern Africa and Europe can easily be requested. Comparing different providers of camper rental and finding the best deal has never been easier! Available in English, Dutch, German, Spanish, Italian and French.
12Go Asia
Home-based in Bangkok, 12Go Asia is a well-known, reliable website for online ticket bookings for trains, buses, ferries, taxi transfers and flights within Southeast Asia.
What does affiliate mean?
At the end of numerous of my articles it is mentioned 'This blog contains affiliate links'. Nothing special, but it is mandatory by law to let readers know this. It means that in case you decide to purchase something from the linked website, Flitter Fever will receive a tiny commission. Relax, you will not pay anything extra!! Only the linked website will pay Flitter Fever a few cents for linking (potential) buyers to their website.
See it as a sign of appreciation; since I made the efforts to write this blog (which usually costs a couple of days work per article) and recommended something great to you, you allow me to receive a few cents commission from them, which I will use to improve this website further and write about more great stuff. Obviously, Flitter Fever only links to products, services, etc. that are in line with what I would buy/do myself.