Are you looking for a COVID PCR test where you get the result the same day? Are you going to travel and have little time to wait for the COVID-19 PCR test result and your non-COVID travel certificate? The solution: PCR Test Netherlands. A fast, reliable COVID-19 PCR test where you receive your test result and your travel certificate by email the same day.
Rapid COVID-19 PCR test
Many test centers in The Netherlands need a minimum of 36 – 48 hours, sometimes 72 hours, before you receive the results of a COVID-19 PCR test. This can cause a lot of stress and hassle, especially when you have to catch a plane, for example. And the GGD does not issue a travel certificate, which you do need for many countries.
The COVID-19 PCR test via PCR Test Netherlands quickly provides the necessary clarity, the same day! A PCR COVID-19 test has now become a strict requirement for many countries and airlines to travel. This because there can be serious consequences when an airline takes a COVID-19 positive passenger somewhere abroad.
KLM has been punished by the Chinese aviation authority CAAC because six passengers of the airline turned out to be positive for COVID-19 upon arrival. In retaliation, KLM is therefore not allowed to take travelers on flights to Hangzhou for the next two weeks.

Luchtvaartnieuws 26.04.2021
Such a travel certificate therefore offers more certainty that your trip can proceed as planned. PCR Test Netherlands are really specialized in – if booked on time – giving the results the same day, which is (often) not the case with many other test centers, or uncertain.
Planning a COVID-19 test in The Netherlands
You need a COVID-19 PCR test with non-COVID certificate, for example to be able to travel abroad by plane. You have no COVID-19 related symptoms. Then make an test appointment with PCR Test Netherlands. Test today = result today*.
Aalsmeer
Alphen a/d Rijn
Amsterdam
Breda
Den Haag – Wassenaar
Eindhoven airport
Groningen
Lelystad
Maastricht airport
Mijdrecht
Rotterdam airport
Uitgeest
Utrecht – Maarssen
Westland Honselersdijk
Zoetermeer
PCR Test Netherlands also offers the possibility to do an antigen test with result the same day. These test results are (on their own) usually not sufficient for travel purposes. For that in most cases you really need the more expensive COVID-19 PCR test. Sometimes both. Check with your airline and local authorities which type of test (s) you need.
Good to know
Test appointment possible 7 days per week

most locations Mon-Fri till 4:00h pm and Sun/Sat till 2:00h pm

Amsterdam daily till 08:00h pm

test till 1:30h pm same day test result (received before 11:30h pm)

test after 1:30h pm next day result (received before 4:00h pm)

So plan the test appointment as early as possible on the day!
Cancel or change an appointment for free
You will receive a non-COVID declaration a.k.a. travel certificate in Dutch, German, English and Arabic with stamp and signature of a doctor (many countries require this detail).
Costs € 79 – € 145 (it costs something but then you also have certainty with speed and certificate)
Payment possible with credit card, iDEAL, KBC / CBC, Bancontact and SOFORT
Please note: the test certificate contains the personal information that you provide yourself when scheduling the appointment online. For instance your name and date of birth. So please check this information carefully, so that you do not submit any typing or spelling errors. When there is a mismatch between your passport and travel certificate, you can get refused at the plane and/or or forced to quarantine by the authorities of the country of your destination.
Belgium PCR COVID test
Are you in Belgium and need a COVID-19 PCR test with the same day result? Then make an appointment with PCR Test Belgium at one of these locations:
At Brussels Zaventem airport there is the possibility for a urgent Corona PCR test available 7 days a week. Results within 30 minutes! Costs: € 129. In Antwerp, the test is also available 7 days a week, you will receive the results the same day before 11:30 PM and the PCR test costs € 135. An antigen test is also available at both locations for € 79 per test.
Germany PCR COVID test
Are you in Germany or fly from Germany and need a COVID-19 PCR test with the same day result? Then make an appointment with PCR Test Germany at one of these locations:
Berlin
Frankfurt
Hamburg
Munich
Düsseldorf
At all locations in Germany except Düsseldorf there is the possibility for a urgent COVID-19 PCR test available 7 days a week. Results within 30 minutes! Costs € 99 – € 139 per test.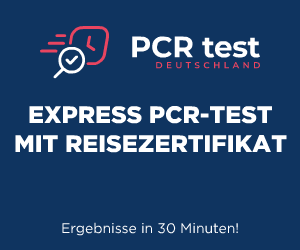 Tips COVID PCR test
Take into account with your planning that you may not receive the PCR COVID-19 test result before 11:30 pm at the latest, unless stated otherwise and booked as such.
Inquire well in advance with your airline and country of destination authorities which type of test (s) you need. The COVID PCR test consists of a mouth and nose swab.
Check the travel advice for the country that you want to or will visit and what the latest requirements and travel limitations set by the local aithorities are. Keep in mind that these can quickly change.
Realize that ignoring governmental negative travel advice can have consequences for the coverage of your travel and/or health insurance.
Make sure you consider in advance where you can print the travel certificate for your trip.
Go in quarantine between the test and your departure and upon your return. The Dutch Parliament submitted a bill to the Senate to be able to give a fine of € 435 for people who ignore the quantaine obligation upon arrival in The Netherlands as of mid-May 2021.
COVID-19 test result
Following the PCR COVID-19 test, two results are possible:
Test result negative = you do not have Corona, your journey can continue
Test result positive = you have Corona (COVID-19), unfortunately you will have to cancel your trip
About PCR Test Netherlands
PCR Test Netherlands is the first and the only test company in the Netherlands that offers a PCR test where you get the results the same day. PCR Test Nederland is BIG registered and works with ISO-certified laboratories throughout the country. A trained and licensed laboratory technician or analyst is present at all 19 test locations.
At TrustPilot PCR Test Netherlands scores based on more than 1300 reviews as Excellent (Uitstekend in Dutch). The head quarters is located in Mijdrecht. PCR Test Netherlands works with the Goed Gezond Groep (GGG, Good Health Group), a chain of GP practices. If your test result turns out to be positive, the GGG will report this to the GGD for you. So you don't have to do anything yourself on that.
Reliability is a high priority for PCR Test Netherlands. Each test result of PCR Test Netherlands contains a unique QR code. That code can be scanned by the local authorities to check that the test result is real, current and valid. This ensures that you cannot be accused of a false COVID-19 PCR test result upon arrival.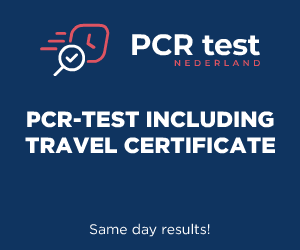 Alternative: Vaccinaties op Reis
Do you not necessarily need the PCR test result the same day if you save some money with that?
Is PCR Test Nederland fully booked on the date/time you wish to test?
Is your desired location not listed at all?
Then consider booking a COVID-19 PCR test with travel certificate at Vaccinaties op Reis. With them it costs € 139 – (instead of € 145 with PCR Test Netherlands), or € 109 p.p. when you make a test appointment with 2 people or more at the same time (reduced rate valid from 6 May 2021). When you test with Vaccinaties op Reis before 12:00h (luch time), you will usually receive the PCR COVID-19 test result by email the same day, usually within 24 hours (PCR). At least 13 locations throughout The Netherlands. (The down side is that their website is not available in in English, but if you use Google Chrome and then Translate to English you should be fine.)
Read more about PCR test with travel certificate via Vaccinaties op Reis.
Hopefully you found this a useful and handy article to know where you can do a PCR COVID-19 test with travel certificate and same-day result in the Netherlands, Belgium and Germany. I would highly recommend to schedule an appointment as early as possible for your preferred date/time and location. I can speak from my own experience that a COVID-19 PCR test with mouth and nose swab is very do-able. Travel wisely, safely and stay healthy!
Wherever Corona, COVID or COVID-19 is mentioned in this article, the same is meant: the new coronavirus SARS-CoV-2.
I wrote several articles about COVID-19. Want to read more on this topic? Check out the COVID-19 Blog Archives.
This article contains so-called 'affiliate links' to support this website. Clicking on an affiliate link will not cost you a cent extra as a buyer at the relevant partner. It does help to keep this blog running so that I can keep creating new, useful content every week. Consider it a compliment to my work. For more information click here.
Last Updated on 05/08/2021 by Flitter Fever