Khao San Road is a great, popular area in Bangkok to stroll, eat, drink, dance and sleep. If you are planning a trip to Bangkok, you have probably heard of the famous and notorious Khao San Road. Make it easy for yourself and stay on walking distance. In a comfortable, affordable hotel with air-conditioning, a private bathroom, free wifi and a rooftop swimming pool to cool down from the heat of Bangkok. These are the 10 best hotels near Khao San Road with a rooftop pool.
Gotta love Bangkok
During your Thailand round trip you probably cross Bangkok several times; as a starting point, before your flight back home at the end of your trip and/or as transfer point when traveling between north and south. Great opportunities to explore different parts of the city and try various accommodation in Bangkok.
Khao San Road and Rambuttri Road are beloved by not only backpackers, there's something for everyone. Just enjoy the street life, watch people walk by, get a massage, something to drink and delicious street food at any hour of the day. Join all others who fell in love with Bangkok here in this way.
Requirements best hotels
My most important requirements for hotels to be included in this list, and what I am personally looking for when spending the night in vibrant Bangkok, are:
Value for money
Khao San Road (KSR) on walking distance
Rooftop swimming pool
Air-conditioning
Private bathroom
Free wifi
Good reviews
Reasonable prices
The prices mentioned in this article are based on staying mid July 2023, per room per night. The prices shall vary based on your preferred date (lower or higher). Especially around the Christmas holidays accommodation prices tend to get crazy in Thailand (2-4x higher than normal) and accommodation fills up rapidly. Book in time for the best value for money and try to avoid high season if you can.
Looking for a great hotel with rooftop pool near Khao San Road in Bangkok? Stop searching, the overview based on (and that will save you) hours and days of research is right here!
1: Chillax Heritage
I lost counting how many people I have spoken to that loved staying at Chillax Heritage. It is often fully booked. Chillax Heritage is absolutely one of the best hotels near Khao San Road, with possibly the best rooftop pool with city view and endless towel supply.
Chillax Heritage managed to combine a perfect location close to the water taxi for sightseeing and the conviviality of bars, clubs and restaurants with a peaceful hotel experience inside. The most wonderful beds and in several rooms the possibility to watch TV from the bathtub with Jacuzzi mode. Add top cleanness and helpful staff to that, and you have the right value for money balance. It's only a few years old.
Distance KSR 10 min 800m
From EUR 83 per room per night
2: Riva Surya Bangkok
Located in a charming street near Khao San Road, atmospheric Riva Surya Bangkok is only a stone's throw away from the pier with hop-on hop-off boat for Bangkok sightseeing. Part of the rooms have balconies with river view, all rooms are spacious with comfortable beds.
Riva Surya Bangkok has two swimming pools with an awesome river view and bar with good cocktails. Plus there is a gym. Honestly, there is little to criticize here, perhaps the above average prices of the restaurant. However, sitting in a tastefully decorated setting, served by friendly staff and delicious food are worth something too.
Distance KSR 10 min 800m
From EUR 136 per room per night
3: Villa De Khaosan by Chillax
Sleeping comfortably on a quiet location yet only a few minutes' walk away from Khao San Road? Yes, it is possible! Villa De Khaosan by Chillax exceeds expectations of many. The newest member of the Chillax family is a stylish hidden gem with fresh fruit at breakfast, 24 hours service, business level wifi and a rooftop pool with bar. Do not expect a strong jet of water under the shower. When booking Villa De Khaosan by Chillax, ask for a room away from the hotel's kitchen for the best experience.
Distance KSR 4 min 300m
From EUR 78 per room per night
4: Casa Vimaya Riverside
Casa Vimaya Riverside is a lovely hotel on a top location within walking distance of many restaurants and public transport. The rooftop pool with bar and shaded areas is a fantastic place to cool down after sightseeing downtown.
Casa Vimaya Riverside has a good restaurant, also for dinner, with very reasonable prices. Good breakfast with lots of options. Very friendly staff and comfortable beds. The hotel has been recently renovated, which made everything look new and fresh again.
Distance KSR 6 min 500m
From EUR 77 per room per night
5: Casa Nithra
Casa Nithra meets all requirements mentioned above, truly one of the best hotels near Khao San Road with a rooftop pool. Stylish hotel at an amazing location, comfy and clean rooms, delicious breakfast and super friendly warm staff that takes an extra step to make the guests feel welcome. Casa Nithra seems to be the priciest option on this list but this may vary per season and for sure it is an excellent choice that is hard to regret.
Distance KSR 13 min 1000m
From EUR 68 per room per night
6: Dewan Bangkok
Ever stayed at a fabulous hotel in Arabian style that makes you feel like 1001 Nights? Here is your chance! When choosing to stay at the Dewan Bangkok, you will enjoy a lovely big room with fridge, rain head shower and fluffy towels. The sweetest brilliant hotel staff will do everything to make you feel comfortable, including free water, juice and snacks at the front desk.
Dewan Bangkok is perfectly close to the thick of it all, yet nice and quiet, with massage salons and a 7/11 convenience store downstairs. Easy to grab a taxi from here. The rooftop pool of Dewan Bangkok may not be big but it's wonderful, the rooftop seating area would make an excellent bar location.
Distance KSR4 min 350m
From EUR 50 per room per night
7: Nouvo City Hotel
Nouvo City Hotel is a modern boutique hotel with friendly prices, close to all the liveliness of Khao San Road and Rambuttri Road. Besides relaxing at one of two swimming pools, we loved hanging out at the restaurant opposite Madame Musur Samsen 2 for good food, great music and people watching. A godsend at a hotel that does not serve any alcohol. Plus several massage salons and a 7/11 downstairs.
Nouvo City Hotel is divided into two wings with spacious rooms with wooden floors and firm mattresses. There is a gym and free shuttle service to the MBK Center and Platinum Fashion Mall. At breakfast you can have eggs prepared in the way you like. A vague sewage smell and limited number of sunbeds by the pools are the most common mentioned downsides of this hotel.
Distance KSR 9 min 700m
From EUR 73 per room per night
8: Chillax Resort
Chillax Resort is a, upscale, quietly located hotel with service oriented staff, the rooms are spacious and include a whirlpool, walk-in shower and comfortable beds. The earlier mentioned Chillax Heritage is voted by many as the 'better brother' of the two; Chillax Resort is slightly older and the style might not be everyone's taste.
Nevertheless, Chillax Resort definitely meets all above mentioned criteria as one of the best hotels in the Khao San Road area with rooftop pool. It actually won the World Luxury Hotel Awards in 2015.
Distance KSR 9 min 700m
From EUR 83 per room per night
9: Rambuttri Village Plaza
To be honest, I felt a bit conflicted whether or not I should include Rambuttri Village Plaza in this list. It is super close to Khao San Road and the cozier Rambuttri Road, it has that rooftop pool with bar with Bangkok skyline view, a restaurant and the best of all: Rambuttri Village Plaza has the lowest prices of this list.
However, it's at the bottom of this league because – although many people love this place – there are also several complaints (such as outdated, impersonal, noisy and cramped). Travelers on a tight budget who are used to hostels (which this is not) and who are not so critical and whiny in character, are likely to enjoy their stay here a lot as it ticks many boxes for a super low price.
Distance KSR 5 min 400m
From EUR 25 per room per night
10: Buddy Lodge
Located right on Khao San Road, Buddy Lodge offers affordable accommodation with room rates from EUR 75 per night. Roof top pool, gym, comfortable beds and friendly staff. Ask for a room on the back of the hotel to avoid street noise.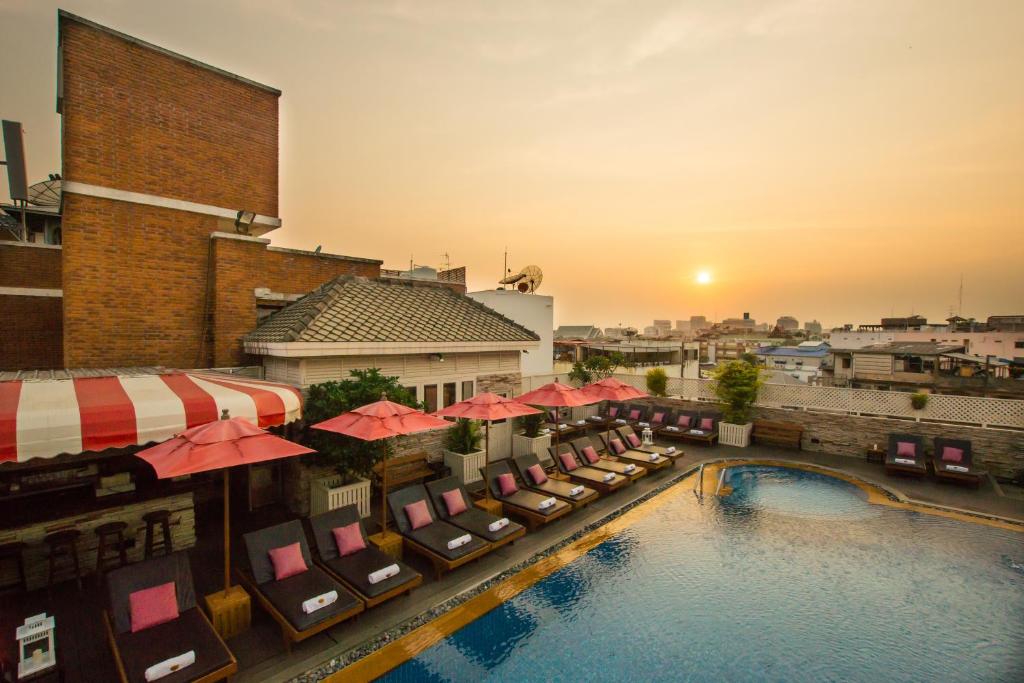 Map Bangkok hotels & more
This map includes places and spots mentioned in this article (and more). This one is 'smartphone friendly'; you can easily use it via the Google Maps app. Click the icon at the top left to open the menu and see the categories. To adapt the map to your own preferences and interests, (de)select a category. Via Google Drive you can copy the map to your own My Google Maps account.
Beyond this list
Sleep Withinn is located on Rambuttri Road, just behind Khao San Road. Their swimming pool is located on the roof. For the view you have to look over a small wall. Superior double room from EUR 39 per night. So great location and cheap, but reviews do mention firm mattresses, street noise and no breakfast.
Although Dang Derm Khaosan has a nice rooftop pool, I did not include it in this list as I would not stay there myself due to the noise complaints, because of its immediate Khao San Road location.
Personally I wouldn't stay at the Ibis Styles either; too noisy, the pool is cramped between the buildings and impersonal atmosphere. If a good night's sleep is dear to you, you are better off staying at one of the above mentioned hotels.
Or check out Villa Bangkok or Dinsomon Hotel, which both did not 100% fit the bill for the top 10, since their pools are not at their roofs and are located slightly further out, but they do offer value for money.
Did not yet exactly find what you are looking for?
Unfortunately Navelai River Resort did not survive the COVID-19 crisis is now permanently closed.
Stay near Khao San Road
Khao San Road, the paralel Rambuttri Road and alleys in between form THE form the nightlife area of ​​Bangkok, especially for tourists. As a Bangkok first-timer you have to see this, although I also know many people who stay here every time they visit Bangkok. Of course Bangkok has other nice areas too.
But at Khao San Road you will find a unique collection of bars, restaurants, clubs and hotels that understand what tourists want, such as a rooftop pool. The swimming pool and air-conditioning are rather essential in a city that is so humid and hot. Accommodation and eateries for all budget levels can be found here, and so it attracts people from all walks of life simultaneously.
Personally I'd rather spend the night close to where I want to go out for dinner, drinks and perhaps a dance in the evening, than close or in the area where I will go sightseeing during the day. I do not like the idea of having to find myself a taxi in the middle of the night, moreover not under the influence of alcohol.
My younger sister and her husband once had to jump out of a driving taxi in Bangkok because the taxi driver drove them in the wrong direction on purpose and gave them a creepy vibe. The next day someone was found killed and the last thing she did was grabbing a taxi. Not kidding.
I hope you find this article useful and helpful and that you will have a wonderful time in Bangkok. Have you ever been to Khao San Road? How was your experience? Please feel free to leave a comment below should you have any question, additional tip, etc.
If you are planning to go to Bangkok, then definitely check out the article Bang Kachao island: cycling through the green urban oasis of Bangkok.
Interested to read more about Thailand? Check out the Thailand Blog Archives.
Save this on Pinterest
---
This article contains affiliate links to support this website. It does not cost you anything extra if you buy something after clicking on one of those links. Partner websites that I am affiliated with, reward me with a small commission for making useful connections between buyers and their service or product. This helps to cover the costs for this website. Consider it as a compliment for my work. For more information click here.
Don't want to order anything via these links but would like to support me to continue to create new content? You can always buy me a glass of wine or take a look at my partner page. Thanks in advance & enjoy your next trip!
Photo credits of the images in this article go to booking.com unless copyrighted otherwise.
Last Updated on 01/26/2023 by Elisa Flitter Fever